Well… Soon anyway.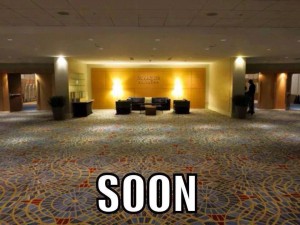 I will be at Dragon Con!
More specifically I will be at Dragon Con at the Brobdingnagian Bards table. We will be in the band area over at the Marriott. Should you decide to come by and visit (please do!) you will find a plethora of CD's from Marc Gunn, The Brobdingnagian Bards, and Andrew McKee. You will also be able to pick up a copy of my new book: Charisma +1: The Guide to Convention Etiquette for Gamers, Geeks and the Socially Awkward, and a copy of Steampunk Trails 2 with my story Bad Altitude, (the precursor to Sapphire Eyes are Smiling) and of course, you can also sign up for Story of the Month Club.
Hint: We give discounts for multiple purchases at the Bards table.
Here's where you can find me over the course of the weekend.
Friday:
2:30 – 3:30 Self Defense Panel (Vinings Hyatt) with Keith R.A. DeCandido
6:30 – 9:30 pm Brobdingnagian Bard Table
11:00 pm Brobdingnagian Bard Show – Hyatt International North
Saturday:
2:00 – 4:30 pm Brobdingnagian Bard Table
Sunday:
4:00 – 9:00 pm Brobdingnagian Bard Table
Monday:
10:00 – 2:00 pm Brobdingnagian Bard Table